With Oscars this weekend, I've been thinking about red carpet beauty trends. One of my favorite makeup trends from this year's awards season has been colorful eye makeup. It started at the Golden Globes, when stars united in black dresses but used eye makeup for a pop of color (I was swooning over Kerry Washington's purple eyes!). At the SAG Awards, Brie Larson went bold in blue while Mandy Moore added a subtle touch of blue to compliment her dress. Then over at the Grammys, Hailee Steinfeld made her white dress pop with bright turquoise eyeshadow (check out their looks at the end of this post).
I took inspiration from all the looks to create my own purple and gold eye makeup. In partnership with CVS Pharmacy, I headed to my local store to pick up all my beauty essentials. They have such an amazing selection that I easily found everything I needed to get my red carpet beauty on at home. Plus, when you spend $30 on beauty, you get $3 ExtraBucks Rewards if you're a Beauty Club member. I've been one for years!
CVS Pharmacy also has a new powerful commitment this year to not alter a person's image (including color, size and wrinkles!) in any beauty imagery they use. Inspired by this movement to celebrate authentic, natural beauty, I used only natural light and went photoshop-free when creating this tutorial.
Prep Your Skin
Before applying makeup, I always prep my skin. If I have time, I'll apply a face mask. As part of their K-Beauty collection, CVS Pharmacy has the best sheet masks. I've been using Peach Slices Firm Mask for hydration. If there's no time for a mask, I'll prep my skin with a facial oil, like Burt's Bees rose, which calms the skin.
Next it's time to apply your favorite foundation. I prefer a light base so I did Burt's Bees Liquid Foundation. Whatever you decide for your base, wait to apply any powder until after you do your eye makeup.
Go Bold With Your Eyes
Ok now it's time to talk eyes! I like to start with a primer or concealer on my lids so the eye makeup lasts. Here are the steps to create the purple and gold look:

Apply a nude shadow over the entire lid. I used "Shell Coquillage" from the CoverGirl nudes palette.
Apply a slighter darker nude to the crease of your lid for definition. I used "Fawn Fauve" from the same palette.
Apply purple shadow to the corner of your crease, blending it to the middle of your lid. I used "Amethyst" from CoverGirl jewels palette.
Apply gold shadow to the inner corner of the eye, blending it to the middle of your lid. I used "Gold" from the same palette.
Define the outer eye with purple by bringing the shadow from the outer corner across the waterline, stopping in the middle.
Brighten the inner eye with gold by applying the shadow from the inner corner across the waterline, stopping in the middle.
Go back to your darker nude and blend the gold and purple together.
Add highlight at the brow bone. I used "Pearl" from the jewels palette.
Use liquid liner to create a subtle cat eye. The felt tip on L'Oreal Lineur Intense allows you to create a super thin line.
Darken brows. I prefer a pencil and used Maybelline Brow Precise. But you can do any method you like.
Apply mascara. I generally do two coats for a bold lash. Here I did Wunder Extensions to lengthen and Maybelline Total Temptation for volume.
Finish Your Face
Now that your eyes are done it's time to finish your face! Gently wipe off any shadow that may have fallen and apply your concealer and setting powder. After blush and bronzer, add some highlighter for that red carpet glow. I went with the L'Oreal True Match Lumi palette.
For lips, I prefer a pink or coral nude so the eyes remain the focus. I used Maybelline "Naked Coral." You can wear it matte or add a clear gloss on top.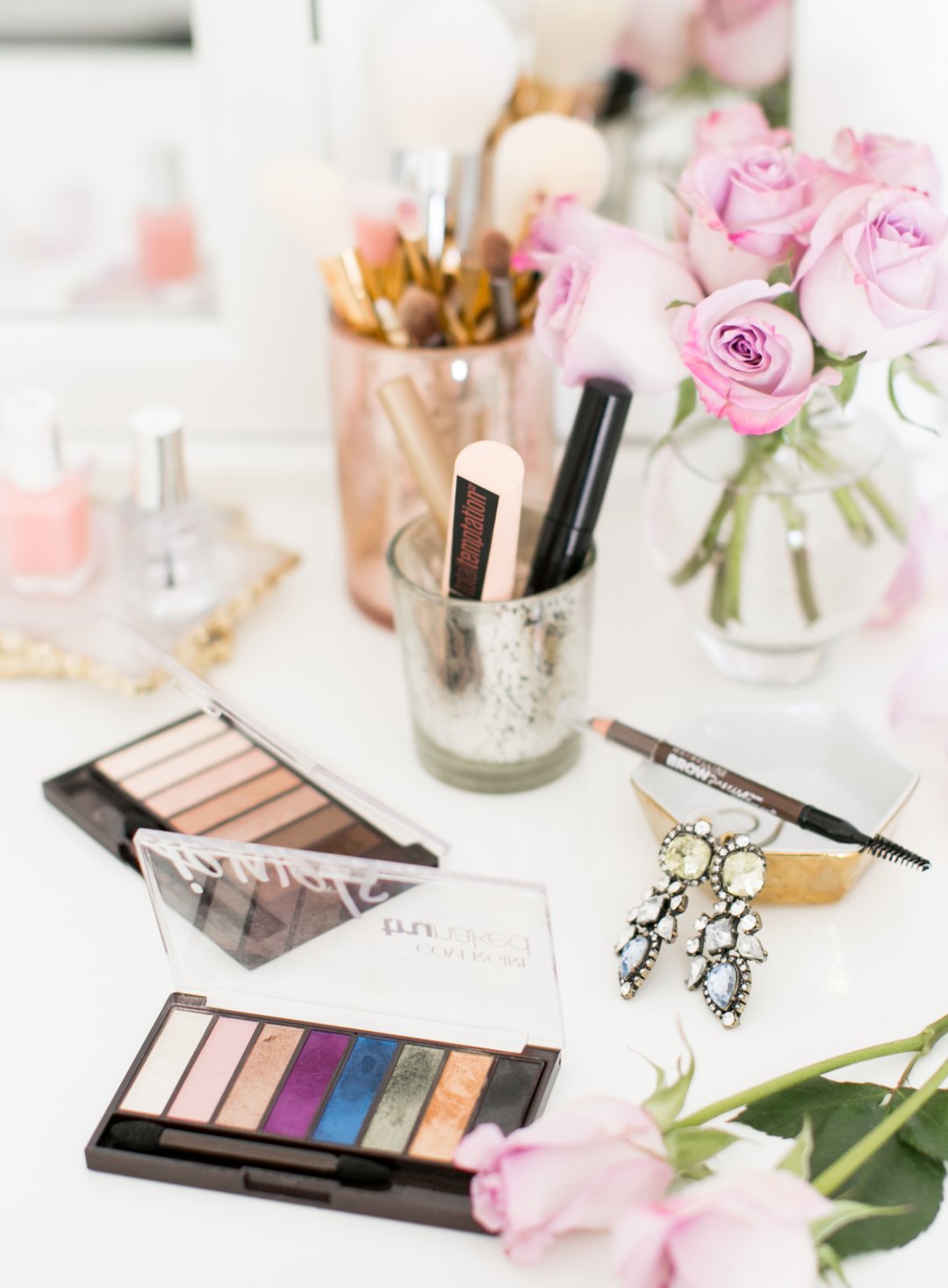 I hope you enjoyed this red carpet eye makeup tutorial! Let me know if you want to see more makeup tutorials on the blog!
Photos by Michelle Kyle
*Thank you to CVS Pharmacy for partnering on this post.*
The Inspiration
*This giveaway has ended. Congrats to winner Elena!*
I'm giving away a $50 CVS gift card so you can get your red carpet beauty on, too! To enter, make sure you're following @cvspharmacy & @sydnesummer on Instagram and follow the instructions on the widget below:
a Rafflecopter giveaway